Do Nitto have the perfect balance of off-road prowess & on road manner wrapped up into the carcass of their Trail Grappler range?

**** UPDATED 1/10/2018 **** In regards to the cracking of the lug's see Dave's reply from Nitto/Toyo Australia
"One area I would like to clarify is the topic of cracking and lug tearing and its relation to compound. The Trail Grappler's compound itself is not overly soft and has been designed to balance wet and dry traction on the widest range of surfaces possible but as it has been formed into an open mud-terrain style pattern to maximise self-cleaning on soft, sticky surfaces, it will experience flex in the tread blocks on hard surfaces as a result. Speaking in detail with our technical manager about your tyres specifically, we are quite confident that the lug tear, chipping and slight cracking at the base of the tread blocks can be attributed to such flex but until now, the options have been to accept the compromises of an M/T to get the strongest tyre possible or sacrifice puncture resistance with an A/T that's better suited to practically all dry or moist off-road terrain from a pattern perspective.
That's where the new 'hybrid' tyres come in, like the Ridge Grappler and Open Country R/T, using heavy-duty construction like an M/T but with tighter, flex-resistant patterns and more durable compounds for the best of both world "
**** Original Article below ****
We've just returned from our Northern portion of the calendar season & have given our tyres an absolute belting! Those in question are the Nitto Trail Grappler in a 285x75x16 (33′) variety. The tyre itself looks like a mud tyre, but if you look at their product range it sits as an aggressive all terrain. It features super tough sidewalls & its weight is noticeably more than its peers. We got onto these through recommendation by Nathan at Autofix Mechanical who has looked after us in the past – and we're glad he did put them forward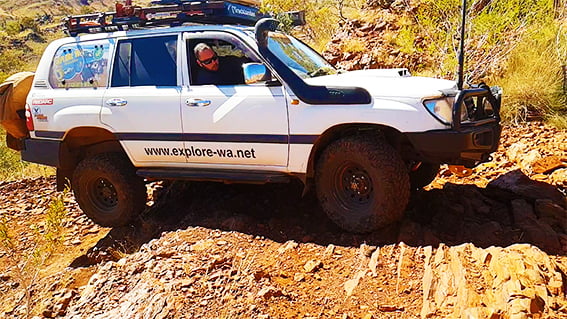 So how did it go in the rough stuff from the remote deserts of the Canning Stock Route to forging tracks in the Kimberley and bouncing across the sharp Pilbara Ironstone?
Bloody well all things considered.
You see, Tyres for us are a consumable. Rubber mounted under a 3T + touring wagon accessing as much offroad kilometers as on road ones means they cop a hammering.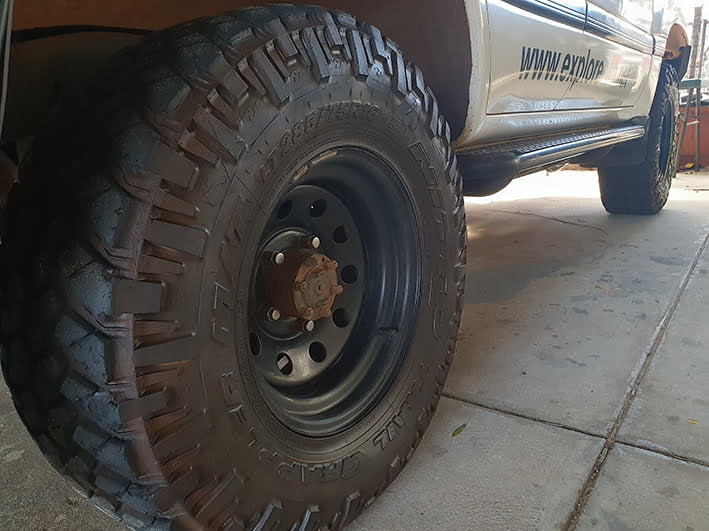 Front tyres:
Our front tyres now have done 40,000km. In that time that's two tours of the Kimberley, 4 trips of the Gibb River Road, 2 trips pushing through 600km of tracks through the heart of the Kimberley scrub, the Canning Stock Route twice, Pilbara region on 4 or so trips & throughout the Southwest & South Coast of Western Australia. They're not the prettiest tyre, with chips and a few nicks here and there, but keeping the suspension in check there is literraly 0 scalloping or uneven tread wear. Stress fractures on the base of the lugs are evident & testament to the tough touring & constant heavy load of the big cruiser. It may be the case that the compound is a little soft for the big rigs, which may age the tyre faster. On the flip side however, wet weather grip with these tyres is excellent & noise on the road is one of their strong points. Considering they have near on 40,000km on them they are still quiet, even in their used condition. We have experienced 0 punctures with these tyres through our travels in this time too which is something we cant say about any set of tyres we have run before, let alone the best part of 2 seasons. Tread Depth sits at 5mm for our front tyres after these kilometers.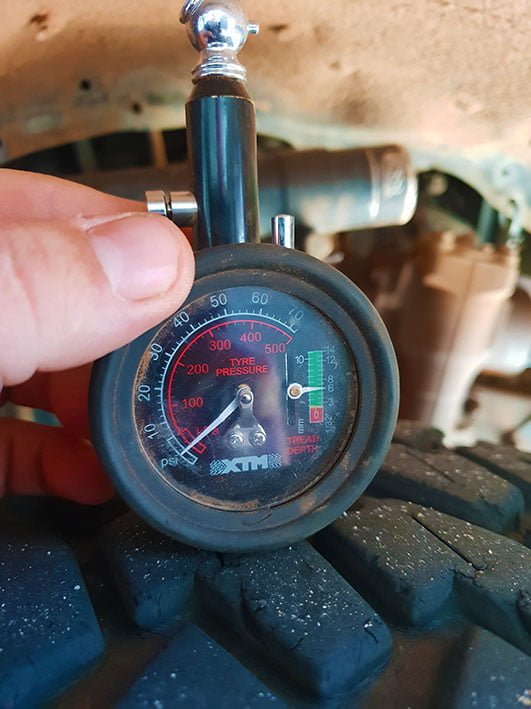 The front end of our touring cruiser is unlocked, so grip is important and the meaty side lugs of the Nitto Trail Grappler carcus ensures we were able to find traction, actually not having to go as hard in areas looking for grip. Whether aired down at 12psi on the beach or 22psi through mud,rocks & scrub they seem to do damn fine at accessing available traction. We are commonly asked how mud tyres go on the beach & our opinion is they do a great job. Common complaints that they dig holes in my opinion is a bit fanciful; we have never had an issue in the decade of offroad driving & touring we have done. Correct tyre pressure & technique will help whether your on a worn out highway terrain or a tyre such as the Nitto.
Apart from a fair bit of scruff up on sidewalls & chips from tread blocks, the front tyres on the rig are holding together well.
Rear Tyres:
Probably one of the most demanding roles on our vehicle, the rear tyres see just as much country as we do & work 10x as hard to do it. We find the rears accelerate wear compared to the front, as the vehicle is predominately 2 wheel drive for highway and high speed gravel sections. They are always transferring power to ground and bare the scars of doing so. These particular examples have around 8000km on them, with 3000km of that on highways and 5000km on offroad, low range & high speed gravel across the Kimberley, Pilbara & Canning Stock Route deserts.
A similar story in terms of their strength, we didn't experience any issues with punctures considering what we drove with the tyres. As there is a lot of weight on the rear axle, these tyres will be working hard laden with the tools of the trade to head bush. About 2000km ago, we tore a large tread block out ona nasty Pilbara Ironstone jump up. For those who don't know about Pilbara rocks, there tough and bloody sharp. They are like a tyres bad dream. Despite an ugly war wound on a near new tyre, and belt on the carcass visible, the tyre has been inflated & deflated numerous times, and doesn't lose pressure. Regular checks have also shown no issues in terms of worsening of the area. It is however admittedly, time to change it out so we will be doing that now we're back.
Slices, scrapes & scuffs mark the sidewalls of the rear tyres. Chipping of the tread blocks once again may or may not be testament to a softer compound of the lugs, but the stress fractures at the base of the blocks throughout the tyre indicate, to me at least with only a modest knowledge of tyre construction that this flex & subsequent stress of the carcass has shown in the tyres. Despite their look, they perform well and retain that quiet drive at highway speeds which I still find remarkable. Tread depth sits at 8mm.
Overall –
For what we subject our tyres too, its a tough ask for any brand of tyre to get the job done but we honestly can not be more pleased with the Nitto Trail Grapplers. We will be talking direct with Toyo/Nitto Australia to clarify a few points on the tyre & get some feedback on what we have experienced with the stress cracking of the lugs but we don't think its anything much to worry about. The grip in all conditions, particularly wet weather on the road is something that surprised me. Their ability to slog out the tough km on very average tracks, slip in a few hundred kilometers of sharp stoney gravel then barrel down the highway for over 1000km time and time again without so much as a puncture really impressed us & put faith in our set up to tackle the tougher end of the off road touring spectrum in Western Australia. Be prepared, these tyres are tough but that means weight & you will notice the extra KG of mass your turning, but its a small price to pay for their reliability. Furthermore the fact these tyres even after a few seasons away remain quiet is pretty impressive.
What looks like stress cracking of the tread blocks.
Common Tyre Pressures we use –
Highway Unloaded-
F- 38
R- 40
Highway Loaded-
F- 40
R- 45
Offroad Gravel mix high & slow speed-
F- 25
R- 28
Rocky Terrain –
F- 22
R- 26
Soft beach sand-
F- 8-14
R- 10-14
Spare tyres –
Don't forget to keep your spares in good nick. Our rear tyres came off before the start of our May Kimberley trips went on the back of our wheel carrier. These had about 6mm tread depth and were slightly scarred but never the less in good serviceable condition. Every so often we check for pressure changes, but they are ready at a moments notice should they be called into service. Having matching tyres in good nick are important with any remote touring, so don't discount keeping an eye on them.
We would recommend anyone with a tough tourer looking for a tough tyre to check out the Nitto Trail & Ridge Grapplers & if you don't need something so aggressive, Toyo & Nitto do an awesome All Terrain too.
Do you run Nitto? We would love to hear your feedback. Drop us a line at admin@explore-wa.net
Visit us on Facebook: www.facebook.com/explorewa4wd
See us on Instagram : @explorewa4wd