Through chance, we were lucky to have an Itech battery land in our lap from a  family member when this didn't fit their application.
Like many people, we have used Quality AGM batteries in the past for our deep cycle needs to keep the beers cold & food frozen on trips right across Western Australia, at times in the height of summer.
Demanding Australian conditions also demand quality batteries & its not an area anyone serious about touring should skip out on quality; or reliability for that matter.
Over the last few years particularly lithium has been heavily marketed as the way of the future, but if you're like us, the cost was prohibitive, the technology emerging & their use in extreme conditions generally untested.
To a certain degree, lithium still is out of reach for the everyday adventurer in terms of a cost perspective. For a 120A/H battery which is now the common size of a N70ZZ in the old money, your looking anywhere from $800 – $2000.
The ITECH  is marketed as "the most advanced" lithium battery pack on the market today, I guess in part to the Redback Lithium Operating system they have.
You can do all the reading off their website here. 
Essentially, this battery is a plug & play unit, able to be connected to existing battery management systems & solar inputs. According to the specs you can connect 4 together as well – Now thats a good move for those with caravans e.t.c – lots of power!
So we have just slapped in the battery & look forward to testing it out. We will add in updates as we actually have things of interest to mention.
05/08/19 – Installed. Literally plug & play with exisiting system. Biggest thing of note is weight. 33KG vs 13KG between a 120A/H Full River AGM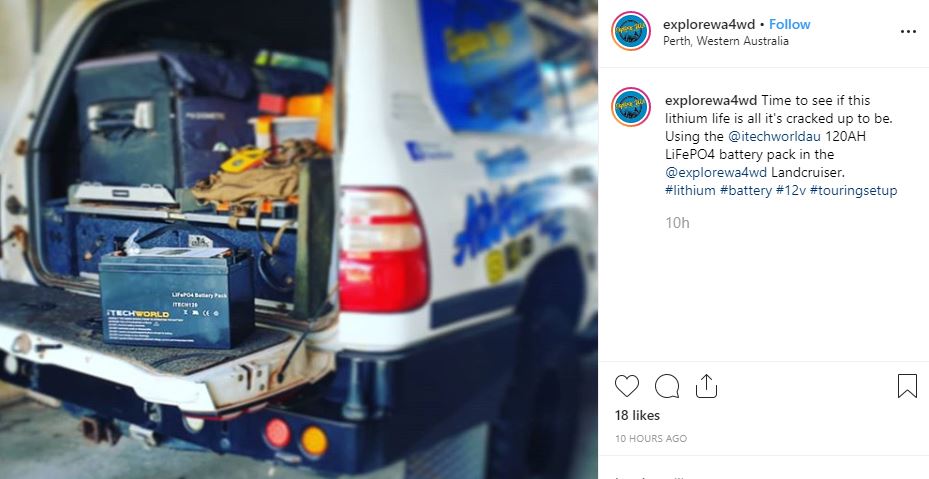 Our Buddy Cam from Wild Touring & his thoughts on Lithium.